Hear the promises of God from Psalm 23 for those who walk with Jesus as their LORD:
The LORD will be your shepherd forever. It's an eternal care.
The LORD will make you lie down forever. It's an eternal rest.
The LORD will provide you with still water forever. It's an eternal satisfaction.
The LORD will restore your soul forever. It's an eternal healing.
The LORD gives you His righteousness forever. It's an eternal rightness.
The LORD gives you His name forever. It's an eternal greatness.
The LORD conquers death and evil forever. It's an eternal victory.
The LORD will be with you forever. It's an eternal presence.
The LORD will comfort you forever. It's an eternal security.
The LORD gives you a seat at His table forever. It's an eternal feast.
The LORD will anoint you forever. It's an eternal blessing.
The LORD will be good to you forever. It's an eternal gift.
The LORD will be merciful to you forever. It's an eternal forgiveness.
The LORD will give you a home forever. It's an eternal kingdom.
Below are the highlights, insights and current updates to the Mission Report for September. This is a time where we look back at what God has done and look forward to what He is doing in, among and through us. Thank you for being a part of God's work here in San Diego through The Resolved Church.
Church Planting Support
Part of our funds go directly to Acts 29 Network which helps fund church plants all around the world. Our money get directed more locally to Acts 29 West Region. One of the churches we help fund is Epiphany Los Angeles with Pastor Tommy Forester and their crew in South LA. We could say a lot about what God is doing through them, but watch this short video [below] and find out more about that. It's a privilege and honor that part of what we give here in San Diego, is reaching lives through church planting in South LA!
Generosity
In August, we all brought in about $48K towards our monthly $55K in August. We spent roughly $51K in netting about negative $4000. Negative sounds bad and we are in a little hole, but we are where God wants us. We have learned to trust Him more and more with how he provides through you here. August is usually one of the lowest attended and giving months of the year. Even with that, we believe God is growing and maturing our hearts to be a more generous people. A people who sees all things given to us by Him; including our money. Our community groups are even going through material on giving. As we grow in this, our budget will as well allowing us to serve our city in unimaginable ways! Keep up the good work.
Already this month [September] we have brought in over $31K. Ministry takes money and allows us to do more to reach people with the Gospel! Thank you for your donations to help us do that together.
Pastor Ryan Buss read this letter from a couple of our members, Nate & Hanan Whitsell. They have noticed that we are doing our best to steer this church to be healthy, mature and great. Part of that is building a culture of generosity that fits into all three of those categories. They, like most of us, have struggled financially, struggled to give even when it hurts, but have seen the fruits of that through God proving His goodness and provision.
Please take a minute to read [the attachment about] their journey and prayers for themselves and us as a church body. Just one example seeing how being a generous church can lead to reaching our city of San Diego and beyond.
Upcoming & Need-to-Know:
Starting Sunday, October 2nd, we will be changing and adding to our morning services. We will have new times of 9AM + 11AM. As of now the 7PM will stay as it is. Please mark this on your calendars do you don't come too early or too late. Want to know more or about why we're doing this? Watch this video here.
Find out what's going on at theresolved.com at anytime.
Thank you Resolved Church for making it a pleasure to work and serve for and with you for Jesus!
Much Love,
Pastor Dan Calvert
THE HOUSE OF THE LORD
SERMON DISCUSSION | PS 23:6c
Sean Keefe
With the Fall season back in full swing, take some time to reflect on the summer, and look ahead to the coming season.
What was your favorite memory from the Summer?
What's one thing on your mind about the upcoming Fall season?
I. The Life of Heaven
Duane asked up front a good question to get our mind's thinking. What do you think of when you think of heaven?
A lot people, not just Christians, think that there is a life after death and it's in a "better place" or a place where you get everything you want. What do you think people mean when they talk about a "better place"? Why do you think these views of heaven are so appealing to many?
Duane suggested Heaven will be like life now, just better (infinitely better). Is this a new concept for you? How does it affect your view of heaven? Does it make it more or less appealing to you?
Duane listed 12 things the Bible has to say about what Heaven will be like:
It will be a physical place.
It will have many cities and people will travel.
There will be great city of God called Zion where God lives.
Zion will be a garden city, both like an unlike Eden. It will be what Eden was always intended to be.
There will be officials and rulers, both men and angels, who will all be subject to the lordship of Jesus Christ.
We will have jobs.
There will be weather and seasons.
There will be festivals and feasts.
There will be church worship services full of people of every ethnicity.
There will be art, music, dancing, and laughter.
There will be animals.
There will be family, friends, and deep relationships.
Take some time to discuss these things. Did you learn anything from this list? What is surprising or appealing to you? Why?
II. The Home of Heaven
Read through John 14:1-7. Jesus wants the thought of heaven to be a comfort and encouragement to us. Does the thought of heaven comfort and encourage you? Why or why not?
Heaven is our true home, and Jesus came to bring us home to His Father.
If Heaven is our true home, how might that affect our lives here and now?
Have you ever felt like a stranger in this world, like you don't belong? When does that happen?
How does the thought that we are not truly home yet make you feel?
Could changing the way you think about heaven have any practical impact on your life? How could it change the way you're thinking about your current situation or the troubles you are facing?
III. The God of Heaven
Duane said that plenty people want to go to heaven, but don't want to have anything to do with God. Why do you think that is?
In Psalm 16 we are told that fullness of joy is found in God's presence. What do you think fullness of joy looks like?
Does the thought of being in God's presence fill you with hope and joy? Why or why not?
Duane said the very best thing about heaven will be God, and we will finally get to see Jesus face to face.
Have you ever thought about seeing Jesus face to face and speaking with Him?
What do you think it will be like?
What do you think will be the first thing you say to Him?
Pray For One Another
This week we found out that our precious baby girl has down syndrome.
We actually found out when Clara was already two weeks old. My labor was very smooth and went well… Clara arrived two weeks early (she is full of surprises). When I looked at her for the first time, I began to wonder if her eyes were a slightly different shape. I was hesitant to bring it up with the nurses because no one said anything to me and she seemed healthy. I brought it up to Carson and we decided to wait to ask the pediatrician the next day during her 24-hour check up. Towards the end of the check up, I mentioned it to the doctor and asked about the possibility of down syndrome. The pediatrician examined her a little more and thought she needed a second opinion from the neonatal doctor. When the neonatal doctor looked at her, she thought that Clara showed a few physical characteristics of down syndrome (almond shaped eyes, low muscle tone, a large tongue) but said it was very hard to tell and that we would need to do a blood test to confirm whether or not she has an extra chromosome (trisomy 21). We took her home from the hospital without any answers.
The next two weeks consisted of waiting, a gazillion weight checks (because she was not gaining enough weight), praying, waiting, crying, more weight checks, heart exams, more waiting, the hospital losing the blood test, and then more blood tests.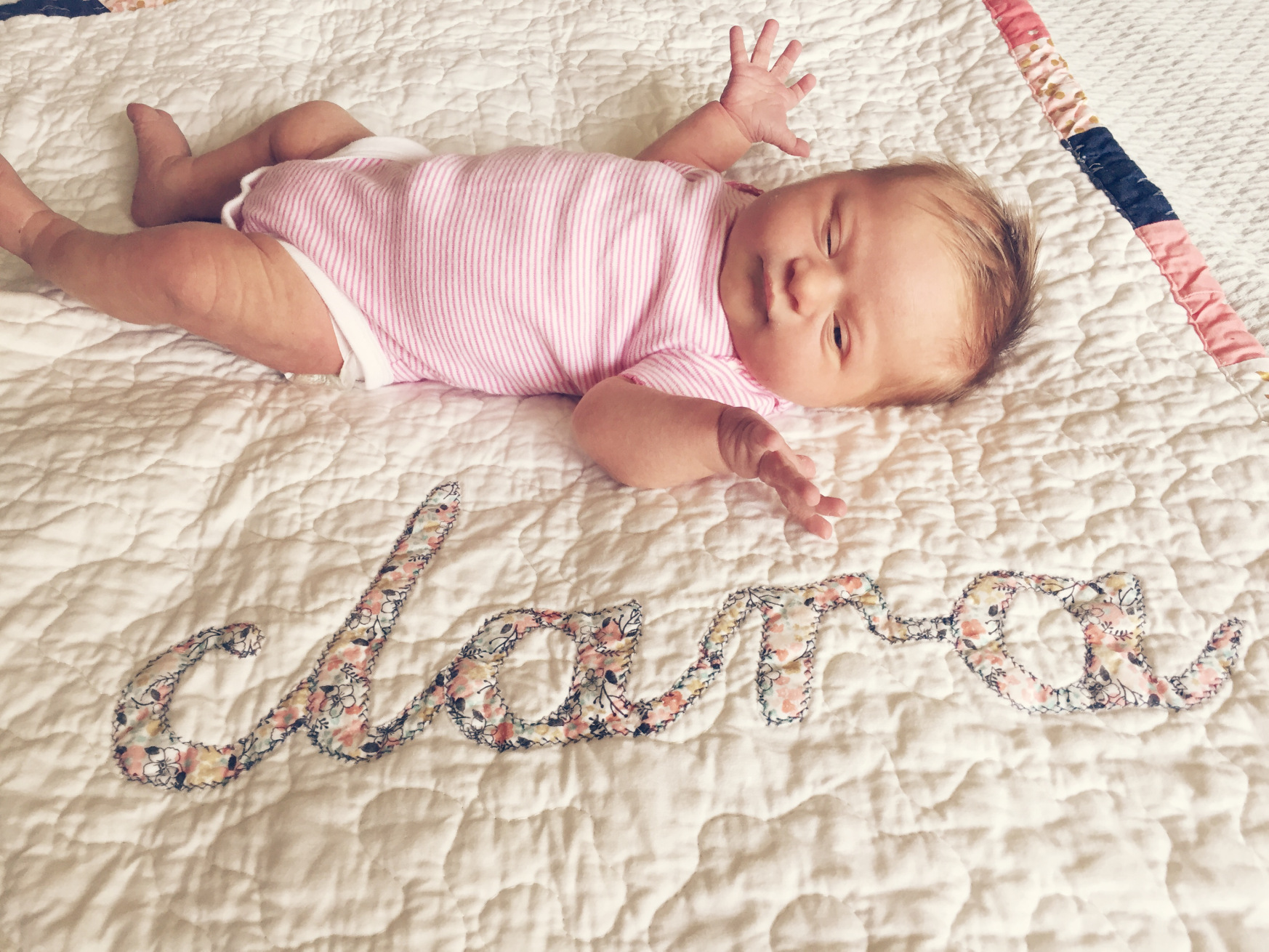 We officially got the diagnosis on a Monday morning: Our Clara Jane has Trisomy 21 (Down Syndrome).
My heart and mind were flooded with so many thoughts and questions: What will her life be like? What will our future look like now? Will she ever get married or have babies? What difficulties will she face? How will I be able to handle this? Why me? Will she come to know Jesus? Will she be happy?
Never before have I seen my heart so clearly revealed— how I valued beauty and success (in the way the world defined them) instead of the way God has defined them. I've always said that all lives are precious and valuable. But the truth is, deep in my heart, I've valued some lives above others based on physical appearance and their success, rather than their value as image-bearers of God. When confronted with these thoughts and doubts, God has comforted me with his truth and is using Clara (already) to change my heart. Over the last few weeks, Carson has been a steady reminder of God's loving rule over our lives and the peace that He gives us.
Today I was telling the news of Clara's diagnosis to a nurse at my obstetrician's office. She was so surprised and shocked. She told me that Clara was the first baby she knew that had been born with down syndrome in this office in ten years. I said that I was surprised that there weren't more babies with down syndrome. She said it is because they all terminate their pregnancies. Earlier this week, I had read a statistic that said about 90% of babies with down syndrome are aborted, but it didn't feel real until today… understanding that Clara is the ONLY one. I just sobbed and sobbed in the car afterwards. The brokenness of our world is heart wrenching and so so sad. To think that a mother could look at her baby and think: I don't want you. My life is more important than yours. Your life is not valuable.
Looking into the eyes of my daughter, God reminds me that she is precious. She is beautiful. She is beyond loved and wanted. She is wonderfully made. She is perfectly crafted by God. She is unique. She is a gift. She is a blessing. She is a joy!
I was introduced to a song called 139 by Kings Kaleidoscope right before Clara was born. God was definitely preparing my heart to meet Clara and welcome her as my own! This song has been a great comfort in this season.
We ask for your prayers and support on this new journey. We are so thankful for the wonderful community of friends and family that are surrounding Clara… Thank you God!
Our prayer for little Clara is "that the works of God might be displayed in her!" (John 9:3)
Jenny Kvaternik and her husband Carson live in San Diego with their three kids. You can often see Jenny playing keys in one the worship bands at The Resolved and Carson serves as a deacon at our church. Jenny regularly writes at her blog, Gospel Homemaker.
LIFE IS A JOURNEY
ANDY STANLEY
Life is a journey. And as you know, every journey has a destination. Not heaven and hell. Your destination in this life. Where you will end up in the various roles you play; what you will accomplish personally, professionally, domestically, and spiritually.
Everybody ends up somewhere in life. A few people end up somewhere on purpose. Those are the ones with vision. They may have other things going for them as well. But they certainly have vision.
A clear vision, along with the courage to follow through, dramatically increases your chances of coming to the end of your life, looking back with a deep abiding satisfaction, and thinking, I did it. I succeeded. I finished well. My life counted.
Without a clear vision, odds are you will come to the end of your life and wonder. Wonder what you could have done—what you should have done. And like so many, you may wonder if your life really mattered at all."
This is an excerpt from Andy Stanley's book, Visioneering: God's Blueprint for Developing and Maintaining.
ALL MY DAYS
SERMON DISCUSSION | PS 23:6b
Sean Keefe
This week's sermon focused on the biblical perspective of "days" and what they mean.
What does a "good day" look like to you? What about a "bad day"?
Are there any recent examples of one or the other?
I. One Day
Duane shared that in the Bible the idea of a day and life go together. God created the day so that life could be lived.
Think of a day in your life when you felt really "alive", like you were really thriving and enjoying life. What was it about that day that was different than others?
Every day that we breathe air is (ultimately) a good day because it is a day God has made. Hebrews 1:3 says, "[Jesus] upholds the universe by the word of his power." Every day exists because Jesus said so.
Have you ever thought of each day as being a gift from God? What are some challenges in life that make it hard to view each day as a gift?
Pastor Duane presented the idea that there are two basic ways which people approach each day:
Without much thought or intention, kind of meandering through the day without purpose, or,
With vigorous determination, a "carpe diem" type of attitude.
Which type of approach is more characteristic of you? Was there anything that led you to develop this approach or are you naturally like that?
Jesus offers a third way to approach the day: Denying yourself and taking up your cross daily (Luke 9:23).
How does this third approach differ from the other two?
What are some practical ways you could tell which approach to the day someone is taking?
Why is it important to view each day as eternally significant?
II. Many Days
Psalm 90:12 says, "Teach us to number our days, that we may gain a heart of wisdom." Life is more than just a string of days that have no overarching or greater purpose. A wise person will understand they only have one life to live and only a limited number of days in which to live it. Developing a Christ-honoring vision or plan for your life is a wise way to live.
Have you ever thought through a vision for your life? What is it?
Pastor Duane shared his personal vision for his household. What do you think are some marks of a godly vision for your life?
Should all visions/plans look similar? Why or why not?
Similar to how there are different approaches to each day, there are different approaches to living life:
Existentialism – Essentially allowing your feelings/desires to dictate the direction of your day to day life.
Pragmatism – Living and ordering your life in such a way to achieve or accomplish goals.
"Theocentricism" – Making decisions from, for, and to God.
Which approach to life do you tend to take? What are some potential problems you could see with living life existentially or pragmatically?
The Christian life is filled with seasons. Life is not a straight line to heaven. There are many ups and downs, mountains and valleys. The way we live out our life of faith will most likely look different in each season.
What are some ways you have seen your life of faith lived out differently in your different seasons?
What are some pitfalls that could come by not acknowledging life is made of different seasons?
The promise of God is that He will be with us in each season ("Surely goodness and mercy shall follow me all the days of my life.") How might the knowledge of God's presence in your current season change your perspective?
III. The Day
"The Day of the Lord" is the day referred to in Scripture of when Jesus will return. That day will represent one of two things for people:
It will be a day of judgment for some.
It will be a day of salvation for others.
Do you ever think about that day? What are some thoughts you have?
For believers, God promises to sustain us until Jesus returns, and then present us guiltless before him on that day (1 Corinthians 1:7-9).
In what ways can this promise effect our day to day lives? In what ways can this promise effect the vision for our lives?
Pray for One Another
Pray for each others hearts and for the wisdom to learn how to number our days.
Pray for a passion to live with a Christ-centered vision.Pray for encouragement and comfort through each of the different seasons of life people are in.
Pray for encouragement and comfort through each of the different seasons of life people are in.
INTRODUCING SAN DIEGO SCHOOL OF THEOLOGY
Pastor Duane Smets
We have merged Leadership Development and The Resolved School of Theology to form the San Diego School of Theology (SDST) in order to better serve both our church members and those outside our church. Our mission is "Developing Relationally Healthy, Biblical Leaders In Jesus' Church and churches."
In order to accomplish this we have established a board of directors for San Diego School of Theology: Dave Maddox, Dennis Frey, Duane Smets, Ryan Buss.
After much prayer and discussion we have put together the following CORE VALUES to guide the processes and goals of SDST.
DEVELOPING THE HEART
Our goal is to not only teach, listen and learn but to process how those things connect and effect our inner person on a deep heart level.
DEVELOPING THE HEAD
Our goal is for the mind to be cognitively engaged and challenged to think high thoughts in accordance with who God is and what He has told us.
DEVELOPING THE HANDS
Our goal is for the posture of the heart and the assent of the head to flow out in intentional action as we live out the truths of the Gospel in our city.
Even though we've separated out these distinctions, we recognize the human person as a unified whole. Thus, the whole person perceives. The whole person contemplates. The whole person feels. The whole person interprets. The whole person decides. The whole person acts.
Therefore, when we speak about the pursuit of spiritual maturity we have in mind Spirit-wrought growth of the whole person. Christ formed in the whole person. That framework of the human personality should also carry over in the way we think about and carry out the development of leaders. Discipleship of leaders rightly understood is Christ formed and supremely reigning in the mind, heart and body. Christlikeness is another way of describing whole-life change.
This fall San Diego School of Theology will be offering two courses we encourage you to take and register for:
Theo 101 – Christian Beliefs (Sundays @ 1pm)
An eight-week course covering the range of theological beliefs essential to the gospel. Topics include: the existence of God, the truth of the Bible, the depravity of humans, the good news of Jesus, the order of salvation, the role of the church and our mission in the world. This class is necessary for membership in The Resolved Church. Click here to register.
Theo 102 – Christian Living (Sundays @ 6pm)
An eight-week course covering the range of practices essential to the Christian life. Topics include: giving, community, serving, worship, personal stories, the spiritual disciplines, missional living and caring for the soul. This class is necessary for leadership in The Resolved Church. Click here to register.
THE RICHES OF GOD
SERMON DISCUSSION | 2 Corinthians 9:81-2
Zach Pardue
This week Pastor Ryan spoke about how God provides for us and how we are to respond in light of to his goodness to us. He began by giving a personal story of how God provided for his mentor during great financial hardship, making the point that even when we can't see how a situation will work out, God always is in control.
What are some personal examples of God providing for you? What made it difficult to trust God? What are the ways God tends to show us grace and provision?
I. Divine Provision
Pastor Ryan continued by stating that the two types of grace that the Bible talks about are common grace (God's goodness he has towards all creation – Psalm 104:10-15, 27-28), and particular grace (the special grace that God gives to only his people – Romans 8:28). While common grace is experienced by everyone, it is only temporary, ending when we die. Conversely, particular grace is eternal in intention and execution in that while we were still destitute, God provided Jesus to give us a life rooted in the renewing grace and forgiveness that only he can provide.
What does grace mean? How would you explain common and particular grace to an unbelieving friend? What does common grace say about the character of God? Why is particular grace intentional? How does receiving particular grace help renew us?
II. Holy Contentment
Moving on, Pastor Ryan explained that God is faithful in his provision to his children, and as such we can have contentment in every situation that we experience because we find our satisfaction in Christ, not our circumstances.
How do we know that God is faithful to provide for us? What makes us God's children? What does it mean to have "contentment in every situation"? How does being confident in God's grace change our view of his provision for our lives? How can we avoid being anxious? What does the Bible tell us about God's provision?
III. Thankful Generosity
Ryan closes his sermon by stating that God has given us more than enough to sustain as well as provide for our every need. As such, we should continually give out of gratitude for what God has done in our lives, believing that no matter how much we give we can never out give God, which allows us give freely and cheerfully to meet the needs of the saints and unbelievers alike.
Who should we give to? How much should we give to others? What if you don't have that much to give? How should you deal with debt and savings when giving? Where does the money you give go towards? How do you start giving? What are some needs in your community group that can be met?
SERVICE TIME CHANGES
OCTOBER 2 | 9AM + 11AM
Beginning October 2, our 10am service will be multiplying into two morning services at 9am + 11am to support the wonderful growth that we have seen God granting in our morning service. If you'd like to help, join one of our ministry teams by signing up at the Connect Booth!