"Let your speech always be gracious, seasoned with salt . . ."
Colossians 4: 6
Eventually, it will be time to share the gospel of grace, so communicate it graciously. Let your heart be so filled with the love Jesus has for you that when you teach others about his love they sense it in you.
Be kind and friendly. Don't get frustrated if they argue or disagree. As the Apostle Peter says, "Always be prepared to make a defense to anyone who asks you for a reason for the hope that is in you; yet do it with gentleness and respect" (1 Peter 3: 15, emphasis mine). Gentleness and respect are key to any relationship, but especially in a situation where you are confronting a person's core beliefs. If they have real questions about Christianity, see it as an opportunity to instruct rather than an argument to deconstruct. God can use someone's contentions with Christianity and the gospel as the very thing that brings him or her back to Jesus. Keep in mind that the people who usually are the most contentious are wrestling with the concepts. So, be gracious. They just need time and someone to help them talk things through, answer questions, and spur them on to think about the things of God. There's no reason to be threatened by their pushback. Of course they will struggle. Think about it—you are telling them their life is not good enough to earn God's approval and they need a Savior who wants control of their life. These are not small things! Be gracious and let the Holy Spirit do his work. When God draws someone, nothing can stop him—have patience, have confidence, and by all means, be gracious! Answer their questions, talk about their issues, but keep bringing them back to Jesus.
I try to keep the conversation focused on the issue we're discussing instead of taking up a "me versus them" attitude in the conversation. Also, realize most unbelievers don't accept the Bible as an authoritative book, so it's best to approach conversation in a non-argumentative way. I do this by prefacing what I say with general statements like "from a Christian perspective," or "Jesus said," or "the Apostles taught," or the "Jewish Scriptures teach us." This seems to be much more helpful than telling them that they are wrong or making them feel stupid in how you respond to them.
Don't forget that you also have a lot to learn from your unbelieving friends, and they can teach you many things about life, relationships, and happiness. When you do learn from them, make sure to thank them for the example they have set.
Remember, you are trying to win a person not a debate. Debates are about winning arguments; relationships are about winning people. Relationships require give and take, time, and attention. Relationships require emotional investment.
You will also need to be gracious with other religious and moral views. If those you are evangelizing feel you lack respect for them or their tradition, they won't listen to yours. Sympathize with their worldview to the degree that you can. Atheists and people of other religions are smart people too. These folks have good reasons and logic for why they believe what they believe. Remember that, given their set of circumstances, background, and information, you might believe similar things. Also, remember that, apart from the Spirit of God opening your eyes to the gospel, you would be just as lost. Humility is key. Graced people grace people.
This is an excerpt from Harvey Turners' Friend of Sinners: An Approach to Evangelism.
FROM DUTY TO DELIGHT
Tim Keller
We should not drive a wedge between seeking personal communion with God and seeking the advance of His kingdom in hearts and in the world. And if they are kept together, then communion will bot be just wordless mystical awareness on the one hand, and our petitions will not be a way of procuring God's favor "for our many words" (Matt. 6:7) on the other.
Prayer is both conversation and encounter with God. These two concepts give us a definition of prayer and a set of tools for deepening our prayer lives. The traditional forms of prayer–adoration, confession, thanksgiving, and supplication–are concrete practices as well as profound experiences. We must know the awe of praising His glory, the intimacy of finding His grace, and the struggle of asking His help, all of which can lead us to know the spiritual reality of His presence. Prayer, then, is both awe and intimacy, struggle and reality. These will not happen every time we pray, but each should be a major component of our prayer over the course of our lives.
This is an excerpt from Prayer: Experiencing Awe and Intimacy with God by Tim Keller.
JESUS' HOUSE OF PRAYER
SERMON DISCUSSION | Matthew 21:12-17
Gabe Hagstrom
Having finished Psalm 23 last week a prayer of David, pastor Duane this week takes us to Matthew 21 to explore more deeply the act of prayer.
The chapter opens with Jesus approaching the temple, the church at that time.
Church is a sensitive and dynamic idea. How do you explain a church to your friends? and coworkers? What do you do there? What is it for?Let's read the passage:
Let's read the passage:
And Jesus entered the temple and drove out all who sold and bought in the temple, and he overturned the tables of the money-changers and the seats of those who sold pigeons. He said to them, "It is written, 'My house shall be called a house of prayer,' but you make it a den of robbers." And the blind and the lame came to him in the temple, and he healed them. But when the chief priests and the scribes saw the wonderful things that he did, and the children crying out in the temple, "Hosanna to the Son of David!" they were indignant, and they said to him, "Do you hear what these are saying?" And Jesus said to them, "Yes; have you never read, "'Out of the mouth of infants and nursing babies you have prepared praise'?" And leaving them, he went out of the city to Bethany and lodged there. – Matthew 21:12-17
Jesus is righteously angry about what is happening at the temple. The people have forgotten the purpose of the temple and started to treat it like a market.
Duane pointed out that we can often treat Churches as something they are not. We overemphasize the building and start to see it as a place, or the work and start to see it as a business, or the people and start to see it as a social club.
Which of those three things (building, work, people) resonates as a way you fall into seeing the Church?
Jesus defines Church as a House of Prayer, and Paul in 1st Timothy 3:15 called the Church God's house. It's Jesus' House of Prayer.
Duane had three points about Prayer in Jesus' house:
The Perils of a Prayerless People
The Privilege and Prayers of Petition
The Pleasure and Prayers of Praise
THE PERILS OF A PRAYERLESS PEOPLE
Jesus was outraged at what was happening in the temple. He turned over tables, scattered people, and chased them out with a whip.
Why such a strong reaction from Jesus? What were some things happening in His house that set Him off? What are some things this reaction can tell us about God and His values?
God's house is supposed to be a place where we come and meet with Him. To hear from Him. God's house is also an example of what our houses should be, we're not limited to just our Sunday visits with Him, we should listen for Him at our houses also.
What keeps you from meeting with God the other six days of the week?
Why do you think God gets upset when people don't pray?
Duane observed that prayer is almost universally seen as a good thing. Studies after studies have come out showing that any sort of daily meditation has vast positive effect, just imagine the benefit of daily meditation sitting next to our creator!
Why do you think prayer is seen as universally positive? Have you experienced that in your life? In this San Diego culture?
THE PRIVILEGE AND PRAYER OF PETITION
Like any all communication prayer can be done multiple ways and for a variety of purposes. Tim Keller distilled all those ways down into two categories: communion centered prayer and Kingdom-centered prayer. Praying to know more about God and become more like Him, or praying to further and see His Kingdom.
Which type of prayer do you feel more comfortable with? Why do you think that is?
All throughout Jesus' ministry people were coming and petitioning Him to heal them, basically praying to Him for healing. We see it in this passage in verse 14. The physical healing Jesus does is a picture of the spiritual healing everyone needs. It's good to pray and bring our spiritual ailments to Him to be healed. He's already cured us of death, Duane gave examples of other "ailments" (Blindness – not seeing ourselves and others as God sees them, Cripple – wounded, broken and struggling through life)
What could be some other things that Jesus healed people from, that we may petition to be spiritually healed from?
Matthew 7 paints an amazing picture of God as a Father, our Father who wants to give us only good things. The caveat being, we should ask. Which leaves us with a tough question:
What do you really desire? How can you find out?
THE PLEASURE AND PRAYERS OF PRAISE
Duane shared Psalm 8:2 where is God is glorified by infants, even those unable to yet speak. Sometimes prayer isn't saying anything, it's conscious acknowledgement of the presence of God.
How much of your prayer time do you spend listening to God? What makes time alone with God special? Where do you go to spend your best time with God?
"Communion with God is the apex of true religion" is how Tim Keller described time with God. It's a powerful thing, an amazing presence to enjoy. Wherever you're at, the answer is in the presence of God (Psalm 16:11).
What struggles in your life, on this city, in the country that you might bring in prayer, so you can listen to God's heart about them?
Pray for One Another
That we would be able to easily meet with God, that we would make time to meet with Him, that we would be present when we meet with Him.
THE SUPREME MYSTERY: ETERNAL GOD BECAME MAN
J. I. PACKER
The supreme mystery the gospel confronts us, lying not in the Good Friday message of atonement, nor in the Easter message of resurrection, but in the Christmas message of incarnation. The really staggering Christian claim is that Jesus of Nazareth was God made man.
It is here, in the thing that happened at the first Christmas, that the most profound and most unfathomable depths of the Christian revelation lie. 'The Word was made flesh (John1:14);' God became man; the divine Son became a Jew; the Almighty appeared on earth as a helpless human baby, unable to do more than lie and stare and wriggle and make noises, needing to be fed and changed and taught to talk like any other child.
The more you think about it, the more staggering it gets. Nothing in fiction is so fantastic as is this truth of the incarnation. If Jesus had been nor more than a very remarkable, godly man, the difficulties in believing what the New Testament tells us about his life and work would be truly mountainous.
But if Jesus was the same person as the eternal Word, the Father's agent in creation, 'through whom also he made the worlds' (Heb. 1:2), it is no wonder if fresh acts of creative power marked His coming into this world, and His life in it, and His exit from it.
It is not strange that He, the author of life, should rise from the dead. If He was truly God the Son, it is much more startling that He should die than that He should rise again. Once we grant that Jesus was divine, it becomes unreasonable to find difficulty in any of this; it is all a piece, and changes together completely.
The incarnation is in itself an unfathomable mystery but it makes sense of everything else that the New Testament contains.
This is an excerpt from J. I. Packer's classic book, Knowing God.
Hear the promises of God from Psalm 23 for those who walk with Jesus as their LORD:
The LORD will be your shepherd forever. It's an eternal care.
The LORD will make you lie down forever. It's an eternal rest.
The LORD will provide you with still water forever. It's an eternal satisfaction.
The LORD will restore your soul forever. It's an eternal healing.
The LORD gives you His righteousness forever. It's an eternal rightness.
The LORD gives you His name forever. It's an eternal greatness.
The LORD conquers death and evil forever. It's an eternal victory.
The LORD will be with you forever. It's an eternal presence.
The LORD will comfort you forever. It's an eternal security.
The LORD gives you a seat at His table forever. It's an eternal feast.
The LORD will anoint you forever. It's an eternal blessing.
The LORD will be good to you forever. It's an eternal gift.
The LORD will be merciful to you forever. It's an eternal forgiveness.
The LORD will give you a home forever. It's an eternal kingdom.
Below are the highlights, insights and current updates to the Mission Report for September. This is a time where we look back at what God has done and look forward to what He is doing in, among and through us. Thank you for being a part of God's work here in San Diego through The Resolved Church.
Church Planting Support
Part of our funds go directly to Acts 29 Network which helps fund church plants all around the world. Our money get directed more locally to Acts 29 West Region. One of the churches we help fund is Epiphany Los Angeles with Pastor Tommy Forester and their crew in South LA. We could say a lot about what God is doing through them, but watch this short video [below] and find out more about that. It's a privilege and honor that part of what we give here in San Diego, is reaching lives through church planting in South LA!
Generosity
In August, we all brought in about $48K towards our monthly $55K in August. We spent roughly $51K in netting about negative $4000. Negative sounds bad and we are in a little hole, but we are where God wants us. We have learned to trust Him more and more with how he provides through you here. August is usually one of the lowest attended and giving months of the year. Even with that, we believe God is growing and maturing our hearts to be a more generous people. A people who sees all things given to us by Him; including our money. Our community groups are even going through material on giving. As we grow in this, our budget will as well allowing us to serve our city in unimaginable ways! Keep up the good work.
Already this month [September] we have brought in over $31K. Ministry takes money and allows us to do more to reach people with the Gospel! Thank you for your donations to help us do that together.
Pastor Ryan Buss read this letter from a couple of our members, Nate & Hanan Whitsell. They have noticed that we are doing our best to steer this church to be healthy, mature and great. Part of that is building a culture of generosity that fits into all three of those categories. They, like most of us, have struggled financially, struggled to give even when it hurts, but have seen the fruits of that through God proving His goodness and provision.
Please take a minute to read [the attachment about] their journey and prayers for themselves and us as a church body. Just one example seeing how being a generous church can lead to reaching our city of San Diego and beyond.
Upcoming & Need-to-Know:
Starting Sunday, October 2nd, we will be changing and adding to our morning services. We will have new times of 9AM + 11AM. As of now the 7PM will stay as it is. Please mark this on your calendars do you don't come too early or too late. Want to know more or about why we're doing this? Watch this video here.
Find out what's going on at theresolved.com at anytime.
Thank you Resolved Church for making it a pleasure to work and serve for and with you for Jesus!
Much Love,
Pastor Dan Calvert
THE HOUSE OF THE LORD
SERMON DISCUSSION | PS 23:6c
Sean Keefe
With the Fall season back in full swing, take some time to reflect on the summer, and look ahead to the coming season.
What was your favorite memory from the Summer?
What's one thing on your mind about the upcoming Fall season?
I. The Life of Heaven
Duane asked up front a good question to get our mind's thinking. What do you think of when you think of heaven?
A lot people, not just Christians, think that there is a life after death and it's in a "better place" or a place where you get everything you want. What do you think people mean when they talk about a "better place"? Why do you think these views of heaven are so appealing to many?
Duane suggested Heaven will be like life now, just better (infinitely better). Is this a new concept for you? How does it affect your view of heaven? Does it make it more or less appealing to you?
Duane listed 12 things the Bible has to say about what Heaven will be like:
It will be a physical place.
It will have many cities and people will travel.
There will be great city of God called Zion where God lives.
Zion will be a garden city, both like an unlike Eden. It will be what Eden was always intended to be.
There will be officials and rulers, both men and angels, who will all be subject to the lordship of Jesus Christ.
We will have jobs.
There will be weather and seasons.
There will be festivals and feasts.
There will be church worship services full of people of every ethnicity.
There will be art, music, dancing, and laughter.
There will be animals.
There will be family, friends, and deep relationships.
Take some time to discuss these things. Did you learn anything from this list? What is surprising or appealing to you? Why?
II. The Home of Heaven
Read through John 14:1-7. Jesus wants the thought of heaven to be a comfort and encouragement to us. Does the thought of heaven comfort and encourage you? Why or why not?
Heaven is our true home, and Jesus came to bring us home to His Father.
If Heaven is our true home, how might that affect our lives here and now?
Have you ever felt like a stranger in this world, like you don't belong? When does that happen?
How does the thought that we are not truly home yet make you feel?
Could changing the way you think about heaven have any practical impact on your life? How could it change the way you're thinking about your current situation or the troubles you are facing?
III. The God of Heaven
Duane said that plenty people want to go to heaven, but don't want to have anything to do with God. Why do you think that is?
In Psalm 16 we are told that fullness of joy is found in God's presence. What do you think fullness of joy looks like?
Does the thought of being in God's presence fill you with hope and joy? Why or why not?
Duane said the very best thing about heaven will be God, and we will finally get to see Jesus face to face.
Have you ever thought about seeing Jesus face to face and speaking with Him?
What do you think it will be like?
What do you think will be the first thing you say to Him?
Pray For One Another
This week we found out that our precious baby girl has down syndrome.
We actually found out when Clara was already two weeks old. My labor was very smooth and went well… Clara arrived two weeks early (she is full of surprises). When I looked at her for the first time, I began to wonder if her eyes were a slightly different shape. I was hesitant to bring it up with the nurses because no one said anything to me and she seemed healthy. I brought it up to Carson and we decided to wait to ask the pediatrician the next day during her 24-hour check up. Towards the end of the check up, I mentioned it to the doctor and asked about the possibility of down syndrome. The pediatrician examined her a little more and thought she needed a second opinion from the neonatal doctor. When the neonatal doctor looked at her, she thought that Clara showed a few physical characteristics of down syndrome (almond shaped eyes, low muscle tone, a large tongue) but said it was very hard to tell and that we would need to do a blood test to confirm whether or not she has an extra chromosome (trisomy 21). We took her home from the hospital without any answers.
The next two weeks consisted of waiting, a gazillion weight checks (because she was not gaining enough weight), praying, waiting, crying, more weight checks, heart exams, more waiting, the hospital losing the blood test, and then more blood tests.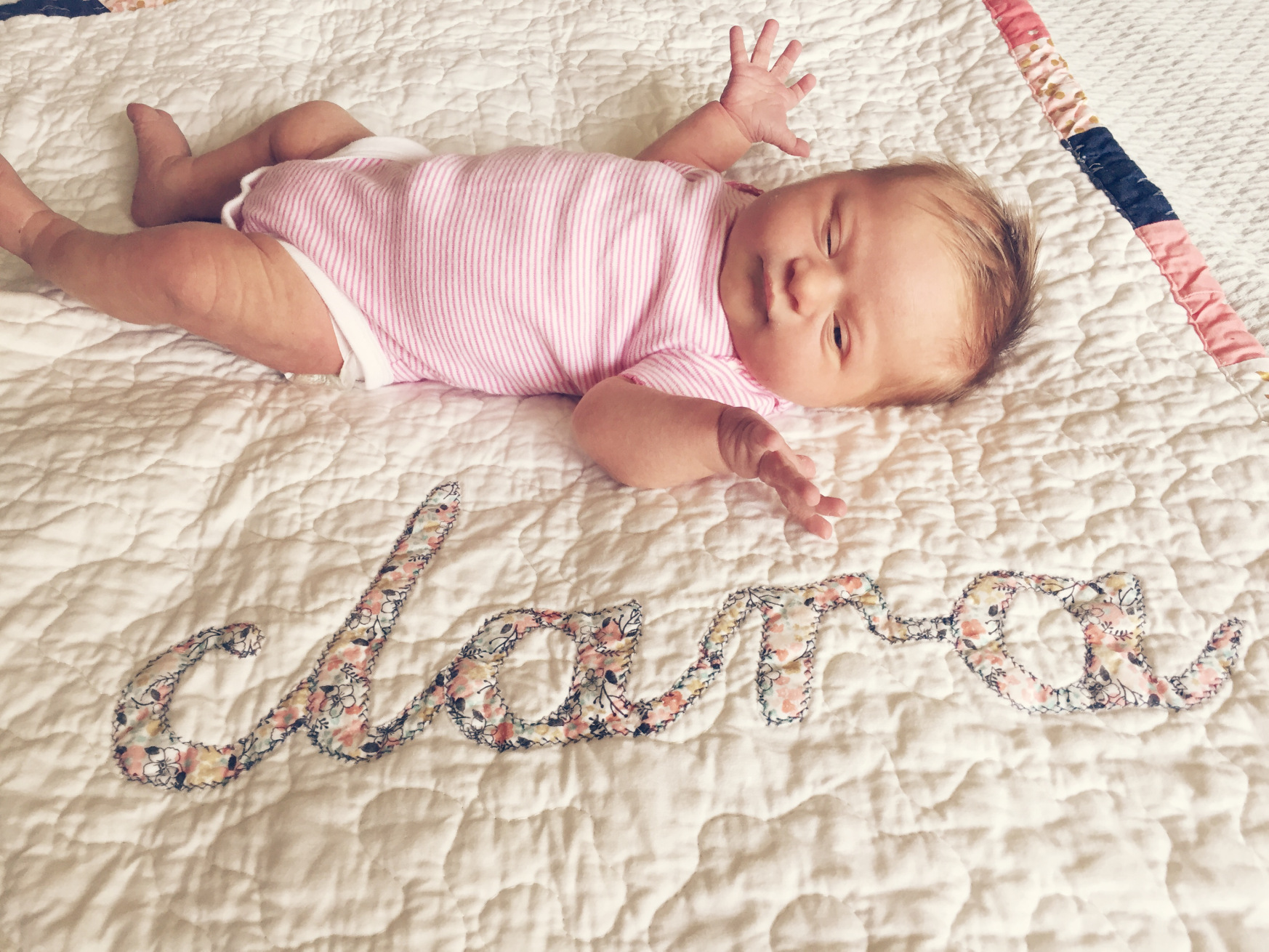 We officially got the diagnosis on a Monday morning: Our Clara Jane has Trisomy 21 (Down Syndrome).
My heart and mind were flooded with so many thoughts and questions: What will her life be like? What will our future look like now? Will she ever get married or have babies? What difficulties will she face? How will I be able to handle this? Why me? Will she come to know Jesus? Will she be happy?
Never before have I seen my heart so clearly revealed— how I valued beauty and success (in the way the world defined them) instead of the way God has defined them. I've always said that all lives are precious and valuable. But the truth is, deep in my heart, I've valued some lives above others based on physical appearance and their success, rather than their value as image-bearers of God. When confronted with these thoughts and doubts, God has comforted me with his truth and is using Clara (already) to change my heart. Over the last few weeks, Carson has been a steady reminder of God's loving rule over our lives and the peace that He gives us.
Today I was telling the news of Clara's diagnosis to a nurse at my obstetrician's office. She was so surprised and shocked. She told me that Clara was the first baby she knew that had been born with down syndrome in this office in ten years. I said that I was surprised that there weren't more babies with down syndrome. She said it is because they all terminate their pregnancies. Earlier this week, I had read a statistic that said about 90% of babies with down syndrome are aborted, but it didn't feel real until today… understanding that Clara is the ONLY one. I just sobbed and sobbed in the car afterwards. The brokenness of our world is heart wrenching and so so sad. To think that a mother could look at her baby and think: I don't want you. My life is more important than yours. Your life is not valuable.
Looking into the eyes of my daughter, God reminds me that she is precious. She is beautiful. She is beyond loved and wanted. She is wonderfully made. She is perfectly crafted by God. She is unique. She is a gift. She is a blessing. She is a joy!
I was introduced to a song called 139 by Kings Kaleidoscope right before Clara was born. God was definitely preparing my heart to meet Clara and welcome her as my own! This song has been a great comfort in this season.
We ask for your prayers and support on this new journey. We are so thankful for the wonderful community of friends and family that are surrounding Clara… Thank you God!
Our prayer for little Clara is "that the works of God might be displayed in her!" (John 9:3)
Jenny Kvaternik and her husband Carson live in San Diego with their three kids. You can often see Jenny playing keys in one the worship bands at The Resolved and Carson serves as a deacon at our church. Jenny regularly writes at her blog, Gospel Homemaker.
LIFE IS A JOURNEY
ANDY STANLEY
Life is a journey. And as you know, every journey has a destination. Not heaven and hell. Your destination in this life. Where you will end up in the various roles you play; what you will accomplish personally, professionally, domestically, and spiritually.
Everybody ends up somewhere in life. A few people end up somewhere on purpose. Those are the ones with vision. They may have other things going for them as well. But they certainly have vision.
A clear vision, along with the courage to follow through, dramatically increases your chances of coming to the end of your life, looking back with a deep abiding satisfaction, and thinking, I did it. I succeeded. I finished well. My life counted.
Without a clear vision, odds are you will come to the end of your life and wonder. Wonder what you could have done—what you should have done. And like so many, you may wonder if your life really mattered at all."
This is an excerpt from Andy Stanley's book, Visioneering: God's Blueprint for Developing and Maintaining.