Financial Report
October 2018
We had a wonderful month this month! We made up all the deficit of September and more! This is a wonderful sign from God that He is with us and that Jesus is caring for His church. Thank you for generous partnership in the Gospel with us!
- Pastor Duane
Each month we provide a report of our recent finances. Here you will find information about our month-to-month budget and the amounts received through your giving. We are committed to being transparent and celebrating your generosity.
October
$51,131
Giving Year-to-Date Giving
$454,076
October Budget
$40,181
Year-to-Date Budget
$401,810
Graph represents dollars in thousands for each month of the year. Gray line, at center, represents budget ($40k). Black line represents cumulative amount given year to date. The number for giving is unaudited. Fiscal year begins Jan 1 and ends Dec 31.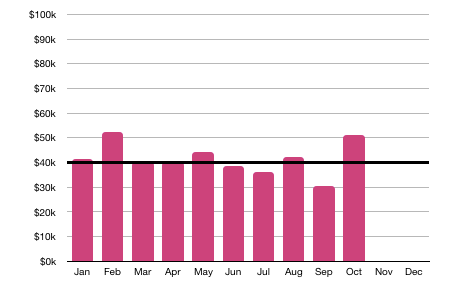 We want to partner with Jesus to serve our city. We desire to be a church marked by generosity. Three percent of every dollar goes directly to supporting church planting both globally and locally.